Gearbox Test Rigs
---
Our gearbox test rigs are custom-built to meet your specifications. Fundamentally, performance test rigs utilize either an electric or hydraulic embracement.
For an electric embracement, the test gearbox is resisted by an electric generator and an auxiliary gearbox (if necessary) and the recovered energy is fed back into the system. This gives the benefit of being able to test gearboxes of any shaft arrangement on the same equipment – distance between shafts and angles play no role.
This concept can also be expanded to cover summation and differential gearboxes. For example, we have delivered a test rig for the textile industry which tests a gearbox with six output shafts.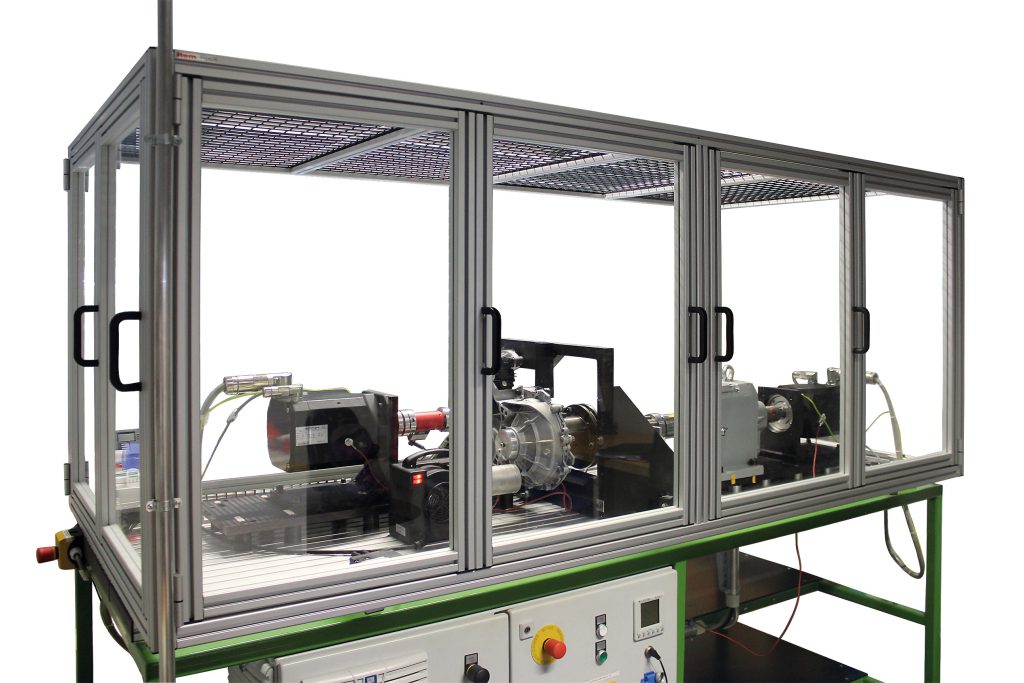 In a hydraulic embracement, two gearboxes are connected back to back with one being free to rotate around the fast shaft. The required torque support is provided by a hydraulic cylinder, which also allows the application of the required torque. while this setup is not suitable for angled gearboxes and requires the use of two gearboxes with identical shaft spacing, it does allow the application of mechanical loads that are many times greater than what a generator is capable of. The electrical portion of therefore only needs to compensate for mechanical losses and can be smaller.
Like our bearing test rigs, our gearbox test rigs are outfitted with automatic controls and an intuitive user interface which allows time-dependent parameters to be set. Load steps, ramps and cycles are possible. Additionally, automatic shutdown criteria allow for safe, unsupervised around the clock operation.
Please contact us to discuss your testing needs!